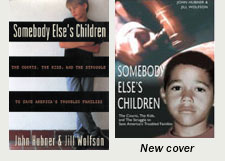 With increasing urgency, the plight of the American family grips the national conscience. For children, certainly, but also for parents, the family courts are often the last safety net our society will extend to prevent disaster. Two and a half million cases come before such courts every year. In the particulars of these cases are the surest prognostications of our future.
With the narrative force of an epic novel, this groundbreaking investigative book delves into the day-to-day workings and life-and-death decisions in one typical American family court system, providing an intimate look at the lives of the children whose fate it decides.
Granted an unprecedented court order giving access to the families, social workers, and legal professions, this book weaves together stories that are sometimes heartbreaking, sometimes uplifting, but always deeply human and profound: the battle between biological parents and adoptive parents for the right to raise a baby born drug-addicted; the family torn apart by what they claim is a false charge of sexual abuse; the gallant struggle of therapists trying to untangle an 8-year-old caught in the web of his parents' bitter divorce; the resilience of a preteen cast aside by family and left to fend for himself on the streets; the nobility of a teenage mother raising her daughters in a neighborhood ruled by gangs.
In an era when the public is questioning the very value of its social service institutions, thousands are in the trenches spending every working day trying to make the system work, trying to protect and rehabilitate children who are too often forgotten by society, too often written off as somebody else's children.
Read an excerpt from Somebody Else's Children.
A great tool for child advocates, attorneys, judges, child welfare workers, juvenile justice professionals, foster parents, teachers and journalists. Used nationwide for CASA/GAL training and in sociology, criminology and law school classes.
Winner of awards from the National Council of Juvenile and Family Court Judges, the American Bar Association, the Western Society of Criminology and the Bay Area Book Reviewer's Association.
What's Being Said about Somebody Else's Children
"Powerful—-A gut-wrenching book. The portraits are etched in acid." —-Washington Post
"The authors wisely recognize that what happens inside the courtroom marks only one point in the complicated web of people and processes that affect these families' lives, and they trace threads through the tangle." —-Chicago Tribune
"You wouldn't expect a book that explains the inner workings of the juvenile justice and child welfare systems to be spellbinding reading. You wouldn't expect this tome to keep you up at late at night. But Somebody Else's Children is and does." —-Houston Chronicle
"A journalistic triumph...Whether or not you subscribe to the theory that it takes a village to raise a child, Somebody Else's Children is an ultimately compelling real-life tale you won't soon forget." —-San Francisco Chronicle
"An unusually levelheaded and perceptive view of the so-called child welfare system. Balanced, informative and often very sad." —-Kirkus Review
"Pregnant teenage girls, suicidal teenage boys, foster mothers, social workers, judges and drug-addicted newborns are sensitively, vividly and affectingly portrayed. Every chapter contains scenes of great poignancy." —-Melissa Fay Greene, San Jose Mercury News
Buy Somebody Else's Children: The Courts, the Kids, the Struggle to Save America's Troubled Families at Amazon.